Advice & How-To's
/ Wig Size
Wig Size

HOW TO FIND YOUR WIG SIZE
Before choosing your wig design, find your head size.
For that, measure the circumference of your head as shown in the picture. Position the soft tape measure so its edges go above the ears and follow the hair line around the head. Make sure that you pin your existing hair as flat and as tight as possible before you start taking the measurements.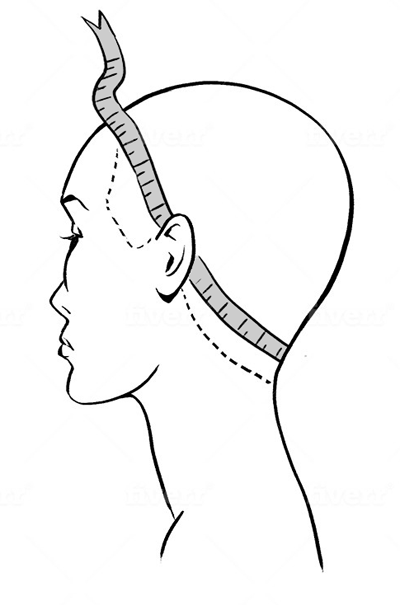 Choose your wig using the following information on wig sizes:
48-50 cm
Extra Small / Extra Petite
(children and women with very small head sizes)


51-53 cm
Small / Petite
(teenagers and adults with small head sizes)


54-57 cm
Average
(most women and many men)


58-62 cm
Large
(men and women with large head sizes)



Useful Tips:

1. Every wig has a certain size shown in the description of the item and cannot be ordered in another size.

2. On the inner side of the wig cap there are special adjustable straps that will help to adjust the size of the item for a more comfortable fit.

3. In most cases wigs have stretchy caps, therefore it is considered acceptable when the head size is 1 cm larger than the wig size shown in the description of the item.

4. When choosing your wig size, consider the length and density of your existing hair. Long hair can only be tucked under a stretchy wig cap. The best option here will be a wig with a traditional wefted cap without Monofilament, Lace Front and PU elements.

5. The same wig size may differ slightly depending on the brand.
CHOOSE A WIG BY THE SIZE OF YOUR HEAD
48-50 cm 51-53 cm 54-57 cm 58-62 cm